Josh Kozelj and Christian J. Stewart
On the first of a two-day mid-season break from WCL regular season play, the Victoria HarbourCats opened a two-game non-league series with a 5-4 victory over the Pacific International League Highline Bears at Wilson's Group Stadium at Royal Athletic Park.
Despite being outhit 10-5, the HarbourCats used a 4-run first inning and late-inning Dustin Miller double to collect a season-high fourth consecutive victory.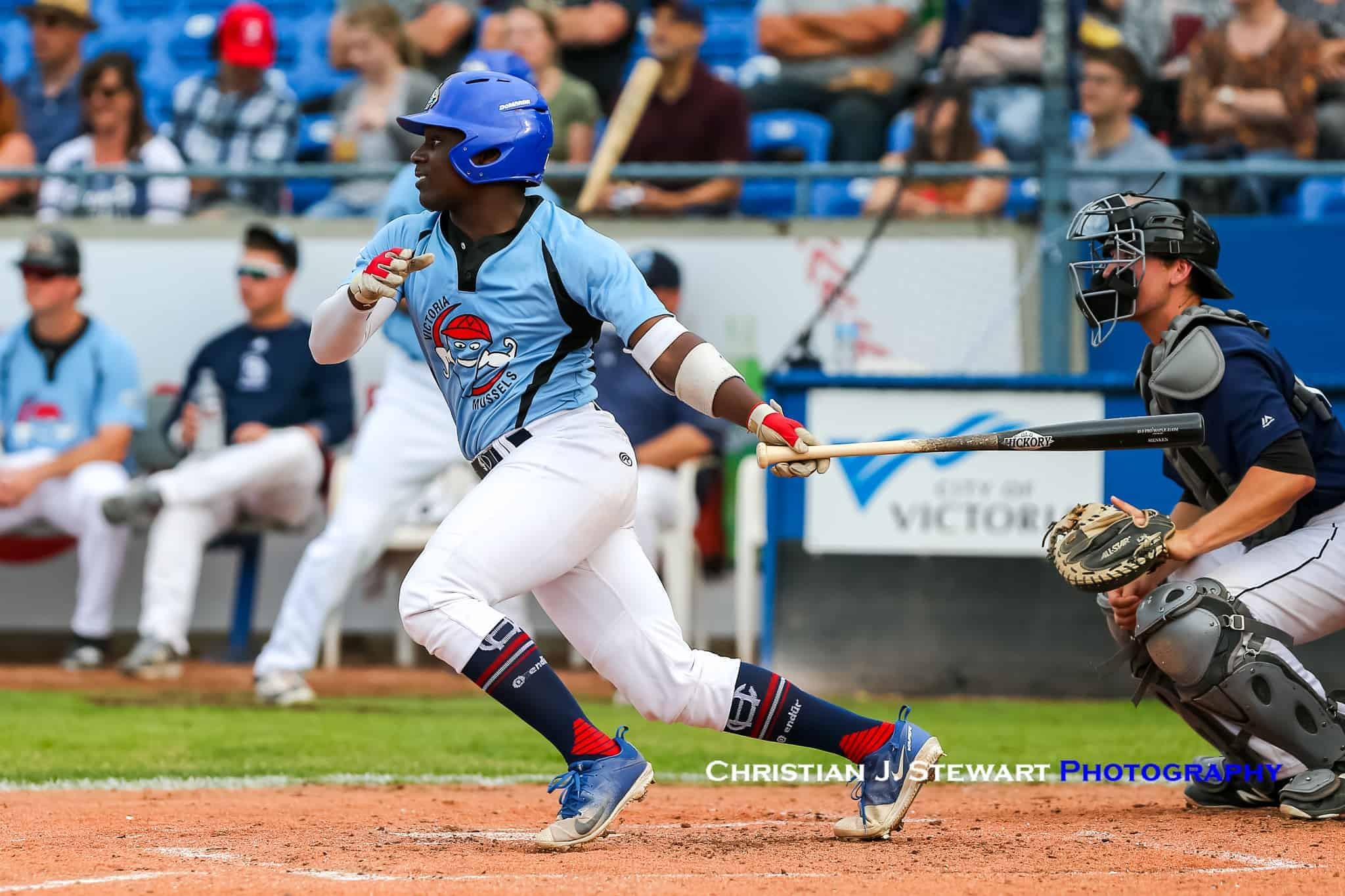 Another newcomer, AJ Lewis, would double in his first at bat for the HarbourCats Thursday (Photo: Christian J. Stewart)
On the mound for the visiting Bears, starting pitcher Cameron Jenkins was able to navigate a rocky first inning to provide Highline with a lights-out start on the mound.
After the four-run first inning, that included a two-run home run from Victoria's Mika Malinchak, Jenkins retired 14 consecutive HarbourCat batters at one point and finished the night with four strikeouts and four earned runs given up in 6 2/3 solid innings.
Highline got the scoring started with an RBI double in the top of the first, but a couple of newcomers responded for their new team in the home half of the first.
Carter Loewen got the start for the HarbourCats Thursday, giving up two runs on four hits in his two innings of work (Photo: Christian J. Stewart)
Outfielder Joe Casey of the NCAA Champion Oregon State Beavers, led off the game with a double and was brought home in the next-at courtesy of Mizzou's AJ Lewis with an RBI single to tie the game at one.
Victoria then grabbed the lead two batters later when Lewis scored from third off a Jenkins wild pitch, and after a Cade Brown walk, Malinchak smacked his home run over the right-field fence to give the HarbourCats a 4-1 advantage.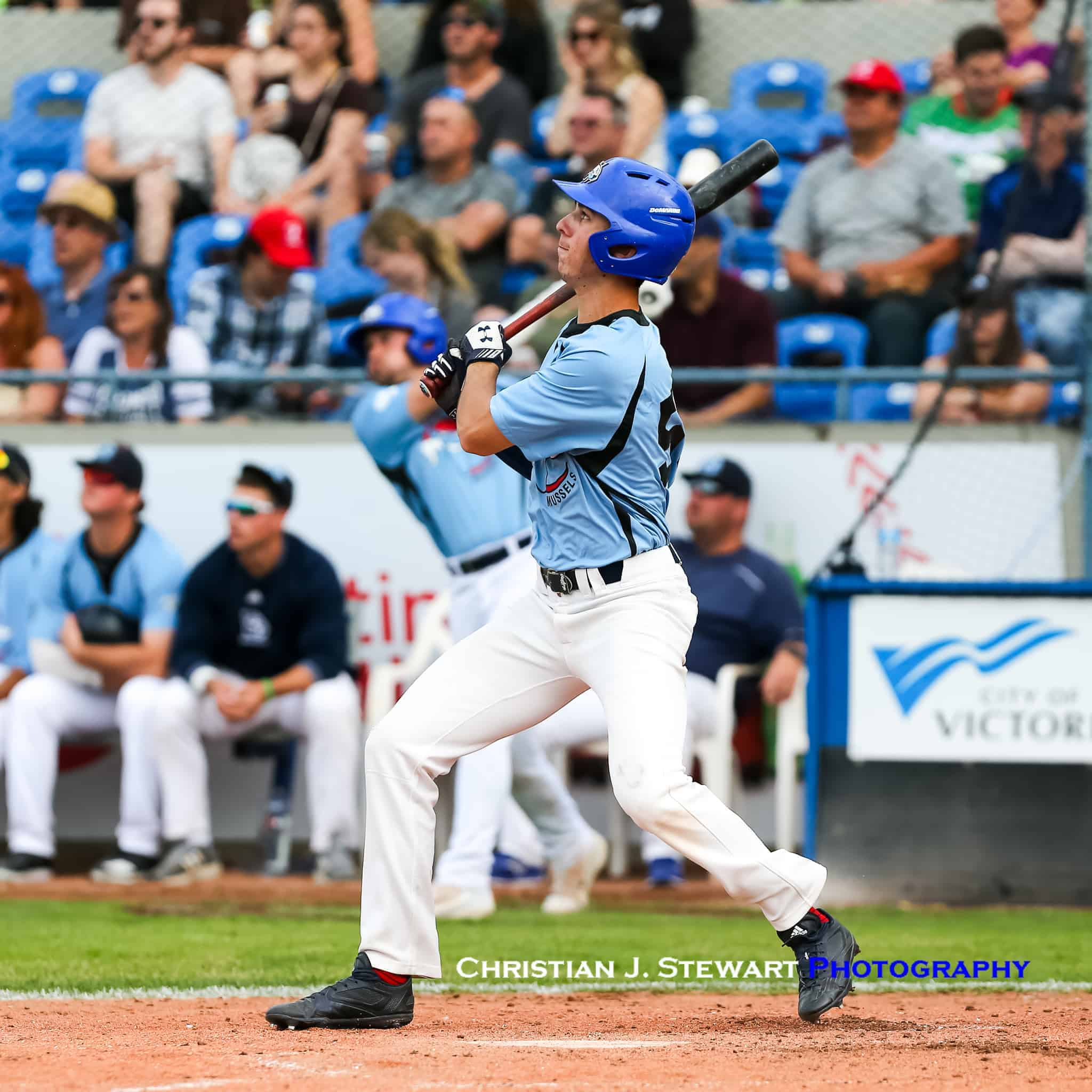 Mike Malinchak got the HarbourCats off to a good start Thursday with a two-run blast over the right-field fence (Photo: Christian J. Stewart)[/caption]
The Bears used a sac-fly in the second, and Kealean Martin solo shot to climb to within one run, but, Justin Solt provided the steady hand on the mound, allowing no runs in two innings pitched to preserve the HarbourCat lead.
The Bears tied in the game in the sixth with an Alex Bryner RBI single, but Victoria would respond two innings later with a clutch two-out hit and some heads-up base running from Dustin Miller.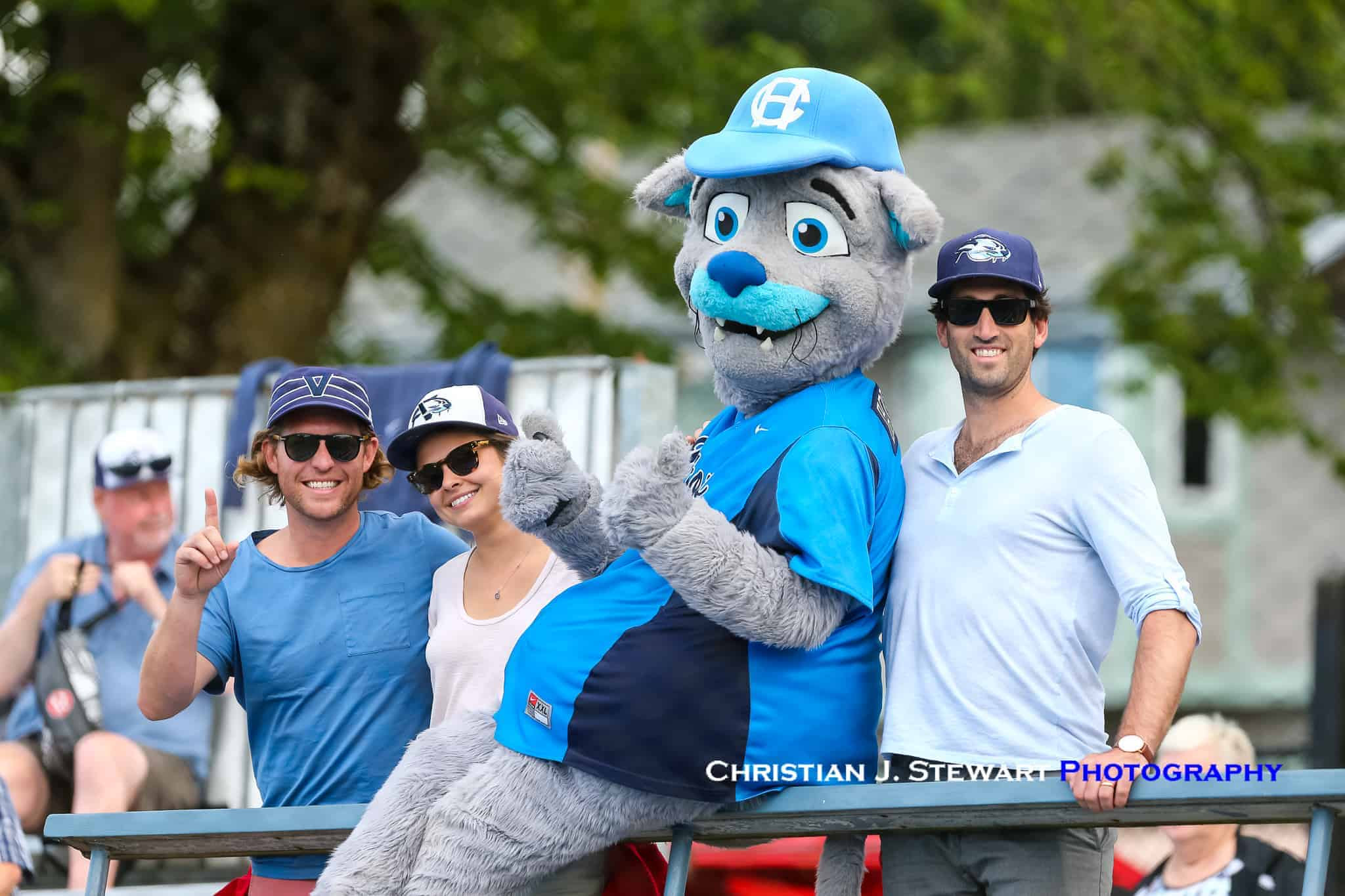 Chris Johnstone (left) and his friends enjoy a pre-game moment with Harvey (Photo: Christian J. Stewart)[/caption]
Miller hit a double to the right-field wall, swiped third, and then scored off a wild pitch from new Highline reliever JJ Asinas to give the HarbourCats a deciding 5-4 lead.
Having entered in the seventh, Po-Jui Huang pitched a scoreless final three innings, ensuring Victoria would walk away with the victory over the Seattle area summer collegiate team.
Tyler Thomas made just his second appearance of the year at home on Thursday, throwing an inning against Highline (Photo: Christian J. Stewart)
The HarbourCats will finish the two-game exhibition series against Highline tomorrow night at 6:35, before opening the second half of their regular season schedule with a 2017 WCL Finals rematch against back to back League champion Corvallis Knights at Goss Stadium in a weekend series from July 7-9 in northwestern Oregon State.